Our unique strength has matured from the fusion of hard and soft, skill and innovation. KINPARA METALS INDUSTRIES continues to forge ahead to the future of cold forging technology.
The combined power of modern digital technology and adept craftsmanship are essential to refining cold forging technology. We fuse our cold forging technology accumulated over many years of experience with digital technology, while passing technology from hand to hand when human sensitivity is required, as the foundation of our manufacturing.
Technical R&D
Seeking cold forging technology with our combined power
Our Technical Department also serves as our R&D Department, constantly making effort to match the latest manufacturing technology with our customer's needs. Taking advantage of the combined power unique to our integrated manufacturing system, we bring together refined techniques and innovative ideas to materialize our customer's product schematics with the optimal production process.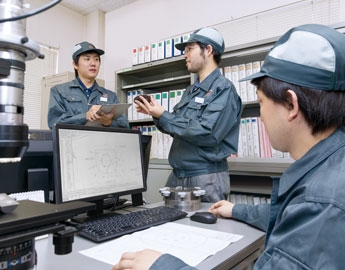 Die Design
Helping to improve QCD with high-precision, long lasting dies
Cold forging is harder on dies than hot forging. Using our half century of deep knowledge as a base, we have achieved improved yield and long lasting dies with design techniques that disperse the expected stress on the products. KINPARA constantly exchanges information between designers and the factory, tying this to overall QCD improvement.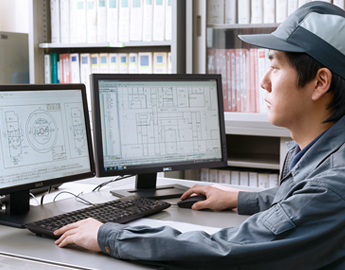 Die Production
Bringing together the latest machines and refined skills
Our dies, produced 90% in-house, are required to have 1/10 precision of product tolerance. KINPARA brings together the latest machining technology which makes full use of wire cutting and electrical discharge machining, with master craftsmanship that has been passed down hand to hand. We have developed this into unique technology which offers both high level precision and yield.